Overview
Job Market Publishing Limited, a subsidiary of Sing Tao News Corporation Limited, serves as a medium for exchange of human capital management news in Hong Kong and China. JobMarket, its flagship publication with over 31 years of history, was first published in 1985 as the first bilingual classified recruitment publication in Hong Kong.
Background & Philosophy
Over the past 31 years, Job Market Publishing Limited has been at the forefront of recruitment advertising in the grasp of the latest recruitment trends. It provides excellent recruitment services to many of the renowned organizations in Hong Kong through its powerful multi-media platform that includes the print media, e-platforms and mobile apps. Known for its solid business foundation and operation, Job Market enjoys a very good reputation in the industry where it owns a large business network of corporate recruitment, personal recruitment, headhunting and education institutions, etc.
Products & Services
Publications
JobMarket & JobMarket Express
JobMarket, the flagship publication, collects first-hand information of vacancies in the labor market, while exploring human resources management practices in large organizations and success stories of business starters. The interesting yet practical magazine also features updates on industry trends and office wisdom articles. With youngsters as the target audience, JobMarket Express is published on every Tuesday. It provides a wide variety of career and leisure news in a relaxing manner, enriched with weekly news on fashion and entertainment as well as feature interviews of celebrities in the town sharing their life experience.
Free copies of JobMarket are distributed at all MTR stations on the Island Line, Tsuen Wan Line, Kwun Tong Line, Tung Chung Line, East Rail Line and West Rail Line on every Tuesday and Friday. With a total coverage of Hong Kong Island, Kowloon and most of the New Territories, it owns the largest railway distribution network among all the recruitment media in Hong Kong.
Websites
www.jobmarket.com.hk was founded by JobMarket in 1999, which is now one of the most popular recruitment websites in Hong Kong. The website collects and lists job vacancies in various industries and career news, while it serves as a comprehensive online recruitment platform for both job-seekers and enterprises with efficient and user-friendly job-seeking tools and database provided. The website has a high monthly traffic volume of over 2.5 million, with an increasing membership of nearly 280,000 people.
www.headlinejobs.hk is a subsidiary website of Headline Daily, operated under Job Market Publishing Limited. Headline Daily first published in July 2005, which has been the No.1 free newspaper in Hong Kong for eight consecutive years [1]. At present, the average daily circulation of Headline Daily is over 850,000 copies [1][2], with over 1,500 distribution spots across Hong Kong Island, Kowloon and the New Territories, including MTR stations on the East Rail Line[2][3], West Rail Line and Ma On Shan Line, over 1,000 housing estates, high traffic spots across districts, Esso stations, First Ferry Piers, etc, which leads to all-round connection to all working adults and quality readers in Hong Kong.
[1] Ipsos Media Atlas survey result (Free Newspaper Category) from Jan 2006 to Sept 2013 (Mon-Fri); calculated based on the average daily circulation (Free Distribution Category) from 2005 to 2013 verified by Hong Kong Audit Bureau of Circulations
[2] Based on the 2013 Q2 report of Hong Kong Audit Bureau of Circulations
www.eduplus.hk is a one-stop adult learning website operated under Job Market Publishing Limited. It provides detailed information about further studies, adult education and courses. Updates on the latest courses offered by learning institutions across Hong Kong enable easy access to course information. In the meantime, the website collects all kinds of education news, including news of both local and overseas studies, and provides one-stop further studies information packages.
Mobile Apps
JobMarket Mobile App
The popularity of smartphones urges JobMarket to launch its mobile app in late January 2014 for the competitive edge in mobile communications. The JobMarket Mobile App provides job-seekers and employers a more efficient and convenient matching platform.
The HeadlineJobs Mobile App creates new and complete mobile job-seeking experience with a number of personalized job-seeking settings. The simple and practical interface and operation mode enables easy access to recruitment news, while job-seekers can search for job vacancies anywhere, anytime.
Career Expos & Education Fairs
As a leader among the recruitment media, Job Market Publishing Limited strives to reinforce its interaction with readers and has long serves as an important bridge for communication between enterprises, organizations and working adults. In recent years, Job Market actively explores new recruitment and education exchange platforms. By organizing large education and career expos, it aims to offer opportunities for more direct exchange between employees, employers and people who are interested in further education to facilitate their deeper understanding of current market condition.
Corporate Logo
The corporate identity represents essential qualities of the company: professional, progressive, and trustworthy. The bright and concise logo signifies the Corporate's leadership, courage and commitment in local recruitment market. The combination of blue and orange portrays energy and creativity; while the blue typeface, with JobMarket's professional and contemporary style, demonstrates the solid foundation of the Corporate. The logo as a whole depicts the Corporate being ready to develop and create a better future.

Membership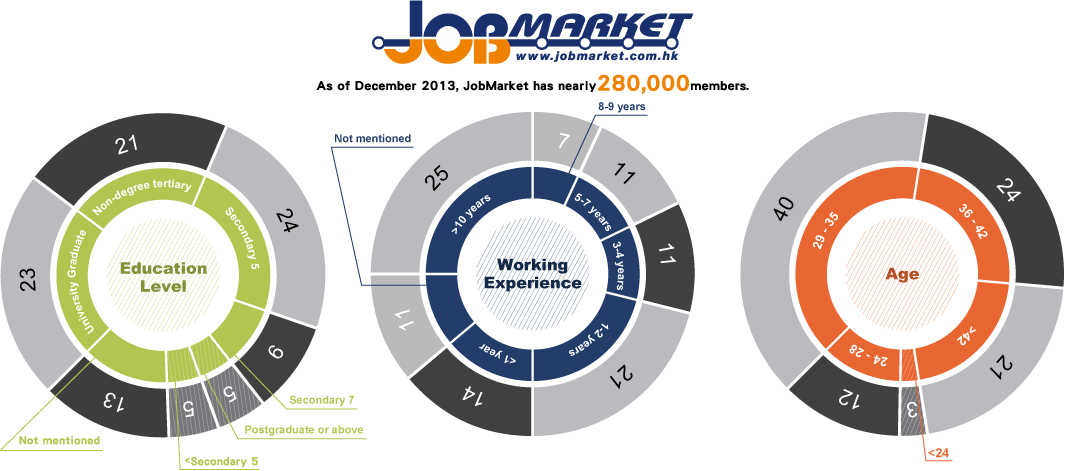 Top 8 Categories with the Highest Hit-count
Business
Administration

Accounting &
Finance

Languages

Sales&
Marketing

Information
Technology

Human
Resources

Hote,
Tourism&
Catering

Beauty&
Health
Partnership
From its inception, JobMarket has been active in establishing an interactive recruitment platform for employers and job-seekers. It strives to gather forces by forming partnerships with various parties and organizations, which has empowered JobMarket to provide top-quality services to its valuable readers and clients.
(Listed in no particular order)
Universities & Academic Institutions
The University of Hong Kong
HKU School of Professional and Continuing
Education
The Chinese University of Hong Kong
School of Continuing and Professional Studies,
CUHK
The Hong Kong Polytechnic University
School of Professional Education and Executive
Development, PolyU
City University of Hong Kong
School of Continuing and Professional Education,
CityU
Hong Kong Baptist University
School of Continuing Education, HKBU
Lingnan University
Lingnan Institute of Further Education
Hong Kong Community College
Vocational Training Council

Government Departments or Non-profit
Organizations
The Hong Kong Federation of Trade Unions
The FTU Occupational Retraining Centre
Yan Oi Tong
Caritas Institute for Further & Adult Education
Po Leung Kuk Occupational Service Centre
The Hong Hong Federation of Youth Groups
Hong Kong Education City
Hong Kong Young Women's Christian Association
HKSKH Lady MacLehose Centre
Caritas Hong Kong
Christian Action
Hok Yau Club

Friendship Oganizations
iProA, internet Professional Association
Hong Kong Linux Industry Association
Hong Kong Institute of Human Resource
Management
Hong Kong Institute of Marketing
The Society of Chinese Accountants and Auditors
The Law Society of Hong Kong
Communications Association of Hong Kong
The Hong Kong Institute of Bankers
The Hong Kong Institute of Directors
Information and Software Industry Association

Alliance in Mainland China
Guangzhou Daily
National Authoritative Recruitment Media
Alliance:
Beijing Youth Daily,
Shenzhen Special Zone Daily,
Shanghai Jie Fang Daily
Shenzhen Recruitment International (A subsidiary
of Shenzhen Municipal Personnel Bureau)
Guangzhou Daily's China Human Capital
Management Conference
China HCM Company Limited, Beijing, China
and more…